Size:

20 GB

 Hard Disk Or External Drive
Format:

VST3,VST,VST2 AU, Standalone

MAC OS Requirements – OSX:

10.10 or later

Windows OS Requirements : PC: 

Windows 7 SP1 or later
FEATURE OVERVIEW.
EKX SOUND EXPANSIONS INCLUDED (Click Here To See Full List)
    EKX Midi PACKS INCLUDED (Click Here To See Full List)
Toontrack's EZkeys 2 builds on the legacy of its predecessor, supplying you with not only a top-shelf virtual piano, but also cutting-edge arranging and songwriting tools. This robust virtual instrument is built around a core sound library, which includes a breathtaking sampled grand piano. EZkeys 2's Bandmate feature generates chords or grooves based on your preexisting audio or MIDI track, while its Tap2Find feature serves up grooves based on the rhythm and notes you provide. You also get a grid editor with humanization, scale matching, timing features, and more for dead-simple song building. A comprehensive MIDI library and an excellent cache of mix-ready presets make crafting a pro-sounding piano track easy. A fully resizable and scalable interface makes adapting EZkeys 2 to your workflow a cinch. Toontrack's EZkeys 2 is an all-encompassing songwriting machine; it gives you everything you need for creating, editing, arranging, and customizing your performances.
Exquisite core sound library
Like the other software offerings in Toontrack's stable of EZ products, EZkeys 2 retains a sublime-sounding core sound library. This library features a breathtaking grand piano sampled using a wide range of microphones and ambiences to ensure maximum versatility and unprecedented playability. We're impressed with the sound of EZkeys 2 here at Sweetwater — its sampled piano fits seamlessly into any musical arrangement. Need more sounds? No problem. Toontrack offers a broad array of EKX expansions that cover the full gamut of musical genres.
Powerful song-building features
Toontrack's EZkeys 2 contains everything you need to craft piano parts that are tailored specifically to your songs. Want an instant piano track? Drop your audio or MIDI into EZkeys 2's Bandmate, and you'll have a bevy of chords and grooves dropped right onto your lap. Got writer's block? Fire up the Suggest Chords feature, and EZkeys 2 will supply you with a creative chord progression tailor-made for your song. You also get a Songwriting Scales feature for letting a mood or scale set the tone for your new idea.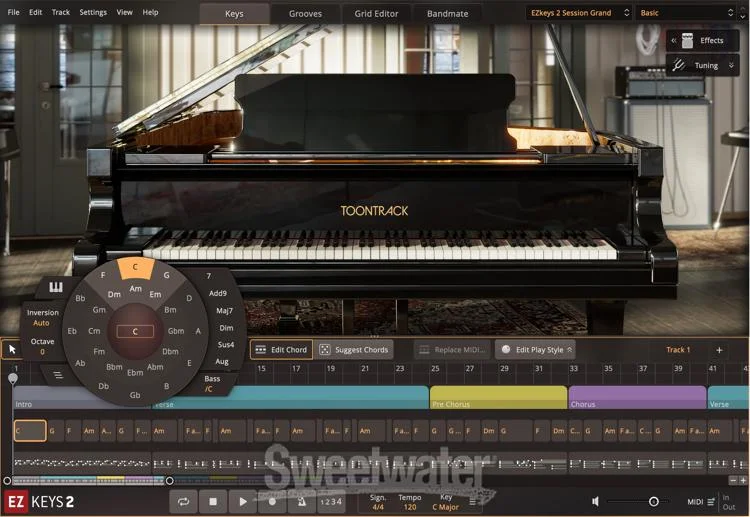 Extensive MIDI library and mix-ready presets
If you find yourself in a songwriting rut, EZkeys 2's extensive MIDI library has you covered, arming you with inspiring piano performances in a wealth of genres and playing styles. You also get an excellent selection of mix-ready presets for various styles and sounds. Any songwriter who needs a piano track that sounds like it was created especially for their song will find exactly what they're looking for in EZkeys 2.
Toontrack EZkeys 2 Virtual Piano Software Features:
A top-shelf virtual piano with cutting-edge arranging and songwriting tools
The included core library features a breathtaking grand piano sampled using a wide range of microphones and ambiances
The Bandmate feature generates chords or grooves based on your preexisting audio or MIDI track
Tap2Find feature serves up grooves based on the rhythm and notes you provide
Grid editor includes humanization, scale matching, timing features, and more
Suggest Chords feature builds a creative chord progression tailor-made for your song
Songwriting Scales feature lets a mood or scale set the tone for your new idea
Extensive MIDI library arms you with inspiring piano performances in a wealth of genres and playing styles
Mix-ready presets cover a broad range of styles and sounds
Convenient resizable and scalable interface